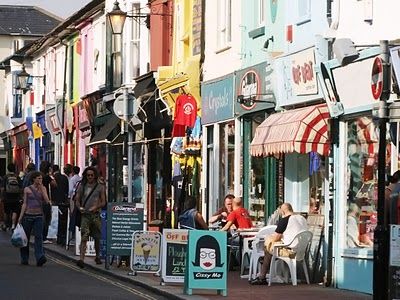 Best Bohemian Shops in Brighton
As we transition from summer to autumn have you given much thought to what newness and attitude you want to bring to your wardrobe? 
Autumn is THAT time for a rethink and a refresh, the winds shift and more than ever I can't help but notice how we are all inviting in change. After months of lockdown and holidays cancelled were all searching for ways to channel our adventurous spirit and what better way than through reinventing our look?

Finding Bohemian Accessories in the UK
With a trip to Ibiza off the cards during corvid, I recently decided to escape to Brighton for some bohemian style fashion inspiration and some autumn style shopping!
This city just bursts at the seams with quirkiness, diversity and boho vibes!
I mainly stayed in the lanes as I was spoiled for choice with the abundance of boho, vintage and artesan shops!
These are just a few of my favourite finds for both bestern and bohemian clothing.
Vintage Bohemian Clothes
This quirky bohemian treasure chest is tucked upstairs in a second hand vintage village in the north lanes. It's such an awesome find if you need some festival wear too!
http://snoopersattic.squarespace.com/
I picked up this cute alpaca themed aztec wool poncho downstairs where there were all sorts of fringed jackets and retro denim finds! Downstairs is called Snoopers Paradise, 7/8 Kensington Gardens, Brighton BN1 4AL
If you like this, I've found an alternative to this cape on ETSY:

https://www.etsy.com/uk/listing/751287007/peruvian-poncho-brown-alpaca-poncho-for?ga_order=most_relevant&ga_search_type=all&ga_view_type=gallery&ga_search_query=alpaca+cape&ref=sr_gallery-1-35&frs=1
Vintage Boho Boots
The boots in this picture were sourced just one street away in a WESTERN VINTAGE shop called WAISTE VINTAGE. What a wonderful piece of western heaven! If you love the fusion of boho and western you'll be as excited as I was to find this Brighton gem!
These genuine leather cowboy boots were just £50! Check out my other quirky cowgirl finds...
I fell in love with some of the mens pieces so for once I bought some! This mens shirt makes the perfect denim jacket!
There are so many belts, bags and boots to explore, starting at just £10!
To see in inside this vintage treasure chest watch the video in this blog!
Native American Fashion
If you are obsessed with native american jewellery or have a crystal fetish like me you will want to leave yourself PLENTY of time to explore this spiritual den of turquoise jewellery and tribal art pieces.
I could have stayed in here all day, appreciating the plethora of magical native american pieces which include sterling silver tribal jewellery, feathered accessories, unusual crystals and musical instruments.
https://www.twofeathers.co.uk/
I picked up this gorgeous beast of CHRYSCOLLA gemstone, the stone of communication, expression and empowerment. Sometimes you just get drawn to a crystal and you feel its vibrational energy in your hand... and that's when you know its the one for you!
High Street Bohemian Clothing
I don't usually spend much time in Urban Outfitters as I generally feel its for a younger market but I did find these characterful autumn wardrobe additions!
The cardigan reminded me of native american colours and autium vibes and is in the current collection at £39.
The denim 70's style trouser suit was in the sale at £28 and has a really flattering fit!
Cardigan:
https://www.urbanoutfitters.com/en-gb/shop/uo-brushed-striped-cardigan?category=SEARCHRESULTS&color=000&searchparams=q%3Dstripe%2520cardigan&type=REGULAR&quantity=1
Denim Pant Suit
https://www.urbanoutfitters.com/en-gb/shop/bdg-chelsea-denim-boilersuit?category=womens-sale&color=091&type=REGULAR&quantity=1
Independent Boho Chic Boutiques
Here's some other beautiful boho boutiques that are a MUST SEE!
You really need to make a visit and leave at least a whole day to fully explore the boho offerings of this area. The street vendors have some amazing artesan jewellery on offer!
All of the featured shops have online shopping available in the UK so all thats left to say is HAPPY SHOPPING!
Thanks for reading, I certainly enjoyed the researching ;-)
Emma-Jayne