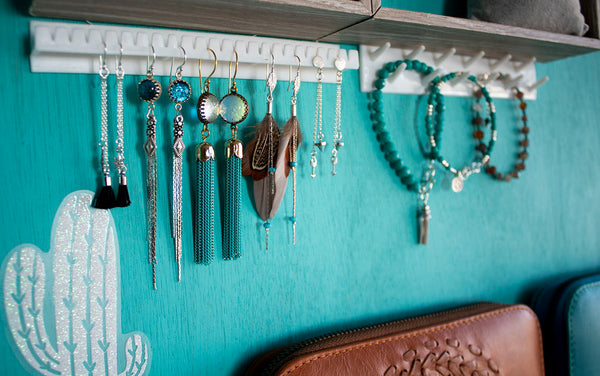 How to Creatively Display your Fashion Accessories
I often get complimented on the display in my boutique so I thought I'd share my top tips on how to display and store your jewellery, hats and purses using affordable and inventive storage and display solutions!
Create a stylish and imaginative Boho-Chic look in your home while organising your fashion accessories in a co-ordinated and easy way.
These cheap and easy sticky back hooks are so verstile and can be insrted into any frame or door. These are available from several sellers on ebay
The earrings storage rack I used in this image are only £9.36 for 9 so very afforable!
an alternative is this style:
The gorgeous Boho Chic picture frames and shelves featured in this post were all purchsed from THE RANGE https://www.therange.co.uk/
Command Clear Hooks on Amazon:
The cactus vase featured was a gift, however these a available in various home stores online. The beautiful longhorn boho bull skulls are available from designer Elle Bailey on ETSY:
I hope this blog post will give you some inspiration to be creative, inventive as well as organised in your home and with your fashion accessories. After all they are so beautiful, why not make a feature of them!
All jewellery, purses and hats featured are available at: www.BohoBuffalo.com