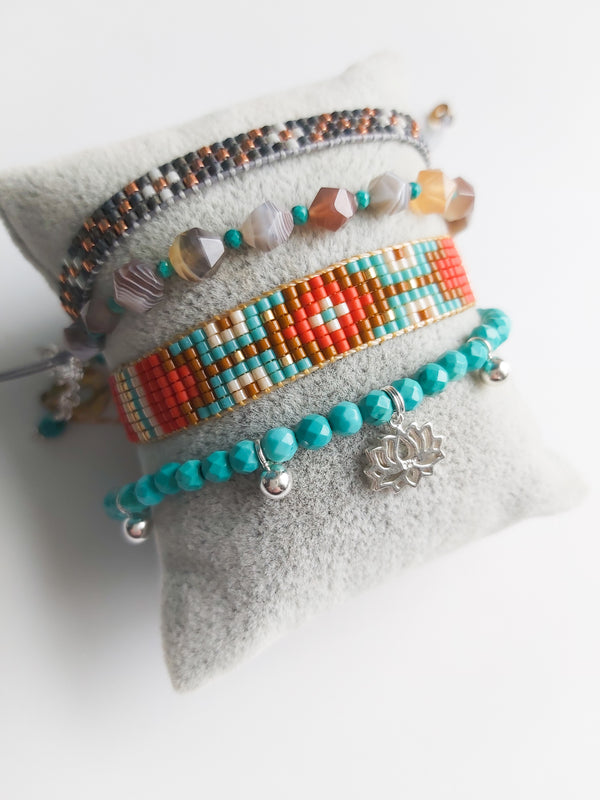 How to layer boho bracelets
Boho Bracelet Stacking Tips
Would you like to know how to create some serious arm candy looks? Let me show you how to get that BOHO CHIC look with the right accessories.
Bracelet stacking looks pretty awesome when it's done right!In this image you can see how plain silver pieces can layer well with a mix of woven and beaded boho bracelets.
e
In this video I'll explain how to layer a mix of textures, widths and colours to achieve a really eyecatching and playful look! I've used many of the colourful designs from the fairtrade woven bracelet range as well as some of the more spiritual protection jewellery that uses beaded crystals. Arm candy inspiration is right here folks...
Playing with Colour & Texture
If you contrast textures as well as colours you get a more dynamic affect.
Mixing scale and width
Try to vary the width of the bracelets or the scale of the beads to achieve a more BALANCED visual effect.
You can also play with having charms on the bracelet closest to your hand.
It's ALL about having fun!
At the end of the day its also about mixing whats meaningful to you and also works with your outfit  - play and have fun with your boho chic look. Hopefully these tips will help you refine that look so you can showcase each piece in its individual light!
 You can shop all of these looks right here on my site using these links:
Woven Bracelets: https://bohobuffalo.com/collections/woven-bracelets
Crystal and silver bracelets: https://bohobuffalo.com/collections/bracelets/Bracelet
There's also 20% off your first order!
Thanks for reading,  Emma-jayne