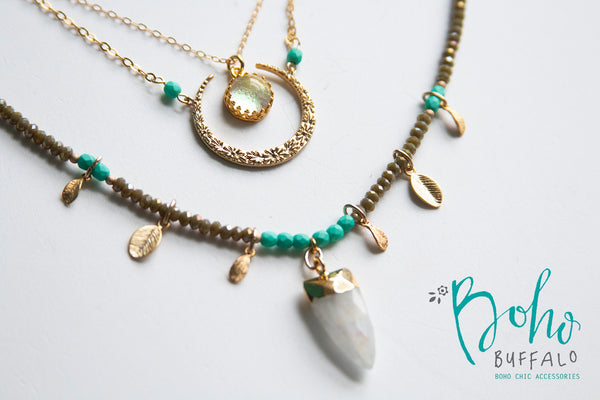 How to Layer Boho Necklaces
This is a simple guide to layering boho necklaces to create a beautiful statement contemporary look.

Above Right: Boho Buffalo designs
You can have SO much fun and variation in your style when you consider co ordnating your necklace collection!
Some very vesatile looks can emerge with just 3-4 key pieces. When choosing those pieces I have a few suggestions based on the amount of impact you want to make.
How to Layer Boho Necklaces
Before discussing style, let's cover the basics first and look at the common lengths available and what these are called.
Keeping it SIMPLE

Many people prefer to choose 3 small and simple pendants and choose to layer these at different lengths. This works well if you are someone that prefers simplicity and dainty jewellery.
Boho silver jewellery 
These are the delicate handmade boho necklace designs available to buy at Boho Buffalo, made with sterling silver, gemstones and 24k gold vermeil for that boho luxe vibe!
Mixing Textures
Adding a beaded option and something with a tassel can add a focal point or you can mix the style of your chains so you have a play on textures.
 https://bohobuffalo.com/collections/necklaces/Necklace
Take it to the next level by introducing some COLOUR! Below I have mixed longer length necklaces and used contrasting turquoise and rust colours. Don't be scared to use one piece that adds that POP of colour!

Below I have layered a 24" Opera necklace and 30" Rope style. For my longest necklace I alwasy prefer a tassel for some playful movement!

Go BIG!
If you want a statement look go with some chunkier, elongated necklace options!
You can also play with long necklaces, balancing these out with shorter designs higher up the neck. I would suggest a 24" to balance this out at the middle or a 14-16" choker style balances out well with waist level boho necklaces.
Here are the latest long gemstone necklace options on the Boho Buffalo site...
Pick the right necklace for your height
TOP TIP!: Avoid Necklace Tangling
Do you end up fighting with tangled necklaces at the back of your neck? I'm with ya sista!
You can purchase a special clasp that allows you to add up to 3-4 necklaces at a time so you can layer up without the hassle. Boho Buffalo now stocks these in both sterling silver and rhodium plated brass.
I hope you have a lot of fun experimenting with these tips!
Love & Light, EJ