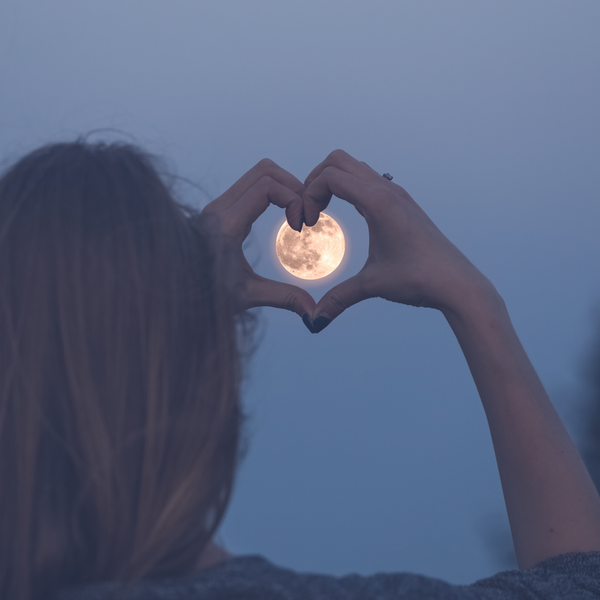 Moon Rituals
What are they?
A simple moon ritual performed during the New Moon and Full moon phases each month can be both a theraputic and empowering experience. Working in alignment with lunar cycles is known to aid in manifestation of dreams and goals as well as helping us to release negative from our lives.
Just like the moon affects tides, we too are made from water and so it can have a profound influence on humans too. How we use this energy at potent times of the month can be transformational!
Performing a simple ritual at potent moon energy phases can helps us to gain clairity on what you want to create for yourself and what you want to change in your life.
Listen to more about this in my interview with Holistic, Spiritual Practitioner Stacey Brady here:

Manifesting
New moon a time for INVITING IN positive changes in your life. It's a time to visualize your biggest dreams and goals and journal or meditate on these. You can create a visualisation board for this, do a visualisation meditation or write them all down in your journal.
New Moon is when the sun and moon are aligned and so the moon is 0% illuminated (you wont see it!).
I recommend this Visualisation Meditation 
(9 minutes in if you want to go direct to visualisation)
Above:
Manifestation Postcard from the Lunar Pamper Box.
Write down what you want to invite in and display this somewhere.
Use the MOONSTONE thumbstone crystal to help you meditate on these. Moonstone is known its abilotyto help us connect to the divine and helps with motivation. It's the perfect moon ritual crystal!
Releasing
The full moon is a time of RELEASE. It's about dciding what no longer serves you for your highest good and deciding what negative aspects of your life or negative mindsets you want to let go of. The best ritual for this is to write them down and burn the paper (safely!) under the moon.
Full Moon is when the moon is 100% illuminated which means its a great time to sit outdoors or in your window to absord its energy. It's also the perfect time to cleanse and recharge your crystals. bathe them in moonlight to charge them with the moon's energy.
To go more in depth with moonology it's also important to note that each moon cycle has different relevance & power depending on planetary alignments & energies. If you would like to listen to a guided meditation relevant to the energies of that date, I recommend this You Tube Channel:
Online Guided MONTHLY Moon meditations:

https://www.youtube.com/channel/UCDQ1Q4BUlv5fXp--rm0cOpQ
Also, the full & new moons are a great time to work with oracle cards!
It's up to you how deep you go into rituals as there are varying options, some including water, crystals, smoke and salt. The moon box I have designed for Boho Buffalo fans is based on a simple ritual of relaxing your body and mind and setting intentions for the month ahead. It's a process of self care and reflection in times when we need it most.
The Moon Ritual Box
I have designed a special pamper box for the moonology fans out there! This box contains a selction of beautiful items ethically sourced from small UK businesses and forms part of a theraputic ritual.
One of my favourite items in this box is the botanical candle, handmade with crystals by Laura of Monday's Moon. Her candles are designed around specific intentions.
This "Blue Moon" candle is a captivatingly scented with a blend of bright citrus, mint, patchouli, jasmine blossom and sensual amber. Topped with tender heather, and aromatic helichrysum, this candle is perfect for invoking healing, fortune and compassion. Finished with gorgeous chrysocolla crystal pebbles, burn when you need a bit of inspiration, or to bring balance on a day when you're feeling blue, just to remind yourself of your power.
See my interview with Laura here:
The Ritual for using this box is as follows:
Shop for this box here:
https://bohobuffalo.com/products/lunar-pamper-box?_pos=1&_sid=dbda0fe9c&_ss=r
Other Moon Resources
I HIGHLY recommend the following sources of inspiration and inspiration which you can use to enhance your full moon rituals:
Moonomens - Meditations / Instagram Feed & Horoscopes
Moonology Oracle Cards & Diary
I hope that this information will inspire and uplift, and help you to
manifest a life that you love
! Thanks for reading,
Emma-Jayne