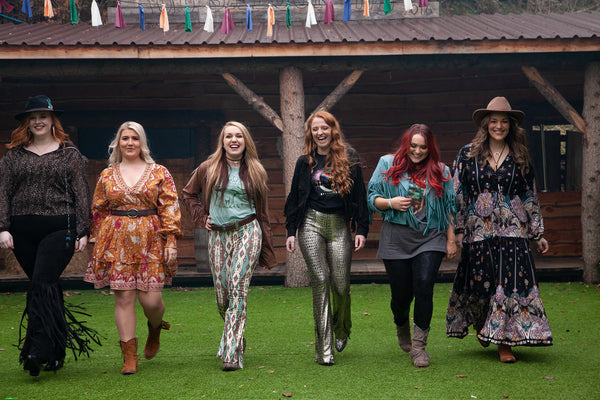 Who are the BB Collective?
So here they are...All six talented country artists that form the 'Boho Buffalo Collective'.

 Six very different personalities with their own shape and style.
Each one beautiful and authentic... just like you!
Real women in wearable, comfortable clothes with wow factor.
 
The Boho Buffalo 'Collective' is a marriage of country western artists with authentic 'boho western' styling. These dynamic women will help me showcase how Boho Buffalo can help you create a Boho/Western look with a heightened sense of individuality. These women are kind and gentle but also fierce and fearless - the quintessential Boho Buffalo individual.
Do you love dynamic western style but also relish in that flowing bohemian vibe? If so you'll love this unique fashion & music project was created to celebrate the joy of fusing Boho and Western style for those who love to break the rules!

...
Allow me to introduce you to these inspirational women of the Country & Americana music scene in the UK!
...
 "She is no doubt one of Britain's finest, soon to be one of the world's finest"
-

MAVERICK MAGAZINE
From releasing her debut album in 2018, to hitting the famous Ryman Auditorium, and The Bluebird in Nashville,and every stage in the UK in between, Kezia burst on country scene in 2018 winning the 2018 British Country Music Associations Peoples Choice award.
Going from strength to strength Kezia made up for the lost time of the pandemic and in 2021 released her award winning EP 'The Mess I Made', and received her first iTunes Number 1 single with 'All Of Me' that lead to an intimate show with legendary Bob Harris. She completed both her own co-headline Tour and has just joined for The Shires on their UK Acoustic Tour. Another hugely successfull year was wrapped up with Kezia winning 3 British Country Music Awards for Best Album, Best Song, and Best Entertainer.
One thing is for sure.....
What's coming next from Kezia is definetely worth sticking around for.
...
Georgia Nevada recently had her first UK no1 in the country charts and is a rising star on the UK scene! Georgia will also be taking the stage at Buckle and Boots festival booked this year.
Early influences for Georgia came from the likes of Brad Paisley, Miranda Lambert and Kenny Chesney. Her style has now developed to a more 'alt' country with influences being taken from The Cadillac Three, Ashley Mcbryde and Elle King.
...
...
Americana, with a gritty twist. Emilia has been described as a firecracker, breaking the mould of modern Americana and roots music by bringing her own unique spin.

With powerful yet husky vocals, her songs tell stories while blowing audiences away with musical skill.

Spanning from badass anthems to heart-felt ballads, Emilia reaches deep into her soul and presents it with astonishing honesty on stage and in her records.
Emilia will be taking the stage at Buckle & Boots Festival 2022!
...
...
...
Most commonly recognised as half of multi-award winning
Gasoline & Matches
, 
a high energy, guitar driven duo, hailing from Birmingham; 
Sally
Rea Morris has made quite a name for her self over the past decade. Honing her craft of story telling and captivating live performance by playing shows around the UK and internationally; Rea is most at home in front of an audience.
 F
rom gracing the stage at the iconic Bluebird Cafe in Nashville, to performing for the royal family at Buckingham Palace, w
ith cleverly constructed lyrics, close harmonies and melodic guitar licks, G&M are known for delivering sharp, energetic performances with playful humour and serious musicianship. Their debut single 'Fool's Gold' reached No.1 in the UK iTunes Country Chart.
 Catching the eye of global brands (Auden, Gordon Smith, G7th Capo, Klotz Cables & Righton Straps), the pair featured worldwide as the face of Blackstar Amp's Superfly advertisement campaign.
...
...
...
In her first EP 'the table' Emma offers a delightful escape from the need to be perfect - you won't find neat little fairytales tied up with a bow here. The conversations in these songs are honest, flawed, and in true Emma Moore style, unafraid to be difficult. The messages of self-worth and strength are underscored by the traditional sounds of Mandolin, Banjo and Pedal Steel alongside shredding Slide Guitars and thumping Drums, creating a soundtrack as dynamic as the stories themselves. It has been celebrated by fans and critics alike, and in November 2021 was nominated for 'Album of the Year' at the British Country Music Awards.
...
...
After struggling with her own self confidence, Meg wanted to release an album full of positivity; all about being kind and realising your own self worth. Her debut album 'confidence' does just that. Not only has it made an impact on Meg herself but has helped a huge number of people that needed that little "pick me up" in their life.
Meg is still growing as an artist and her life is changing all the time, which, as a songwriter/storyteller, inspires her to write from a more raw and real approach and has a bunch of new, diverse material which she is hoping will grab people in a different way in the near future.
Check out Meg's music at: https://www.facebook.com/megmcpartlin22/
...
Thank you to Donna Zannetti of Zimagined for birthing this female empowered project that unites a community of creatives and to Tamography for capturing the spirit of these unique beings so perfectly 💫
...
Thank you also to Laura of Buckle and Boots festival for allowing us to photoshoot at Whitebottom Farm, where we had our own 'BB Saloon'!
Check out the amazing Buckle and Boots festival 3-5th June '22.
https://www.buckleandboots.co.uk/
...

If you would love to explore some of the best UK country music I'd recommend checking out the girls pages.ach artists will be performing live on the Boho Buffalo Facebook page in the run up to C2C Festival '22 so keep your eyes peeled!