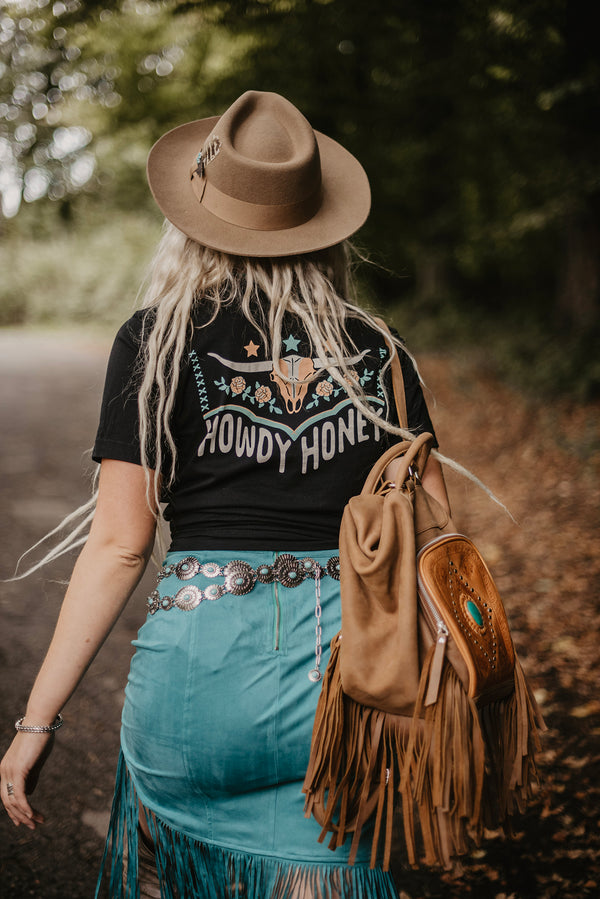 What is Western Fashion?
Women's Western Fashion
In the UK, western fashion has long been associated with cowboy movies, Dolly Parton and the 'Dallas' drama series, but with the rising popularity of country music, western chic fashion is fast becoming a THING! Let's look at how to create the perfect western chic look!
Does the average woman here think 'I'll just dig out my fringe jacket and cowgirl boots for that meal out on Saturday'. Hell no... but that's the beauty of it, western fashion style isn't got the average person, it's for those authentic souls that like to blaze their own trail! It's the stand out look that makes a statement.
In my experience as a Boho Western Boutique owner, peoples main fear is that they will look like they've been plucked from some American rodeo or fancy dress party. This doesn't have to be the case. Just like we cherry pick the tasty elements from foreign cuisine and fuse them with our own, we can create the same carefully curated fusion with our outfits.
My brand, Boho Buffalo is all about Boho-Western fusion, taking the fluid shapes, colour and florals of bohemian fashion and combining it with the rustic fringed textures, aztec prints and leather craft techniques of Southwestern style. We specialise i western outfits for women of all shapes and sizes.
Western Outfits for Women
How do you create a sassy 'western chic' look?
Let's focus on a classy, wearable collection that doesn't result in people shouting 'yee-haa' every time you walk down the street! We want to be stared at... but in a good way, right?
Western Style 1 - 'Rodeo Girl' - Fringed waistcoat or Jacket, Jeans, Retro Tee, Cowboy Boots, Stetson
Western Style 2 - 'Boho-Western' Flowing boho dress or skirt, Denim Jacket, Western Ankle Boots, Feather Jewellery, Fedora
Classic Combo 3 - 'The Casual Cowgirl' - Western Shirt, Skinny Jeans, Boots, Chunky Cardigan or Jumper
The best thing about both bohemian and western fashion is its COMFORT factor! There's something that will flatter any figure and the fabrics are about flow, stretch and practicality.
Western Wear Fashion Trends
Are Western Boots in fashion? The answer is ALWAYS! They are a timeless essential.
.
Look around you, it's surprising how universal the cowboy boot has become.
Fringe is ALWAYS in fashion when it comes to western wear so whether its a fringed scarf, bag or jacket, you can channel the western vibes easily!
Chances are you have some denim in your wardrobe - don't be shy about mixing this with some suede pieces and layering with some floral prints.



Jacket: https://bohobuffalo.com/products/longhorn-denim-jacket?_pos=18&_sid=cccb64e83&_ss=r
Shirt: https://bohobuffalo.com/products/denim-western-shirt?_pos=1&_sid=585dc875a&_ss=r
Plus Size Western Wear
How to create a western look if you have a curvy silhouette
I have many women coming to me with the dilemma of how to find and style western style clothing. There's some key tips for styling a curvy silhouette:
Try a flowing V-neck or wrap maxi dress as your core piece. These are more widely available and look great with western boots and a denim jacket.
Buy a fringed waistcoat - Avoiding buttons can help so try a layered look with an open front fringed waistcoat. Layer over a body-con dress (with control panels to shape you ) or jeans and a long sleeve top.
Invest in some funky jeggins or leggings - something with stretch. Wear your cowgirl boots on top and a loose cardigan or jumper. An oversize vintage tee also looks great with leggings (see below).
Try a stretch wast maxi skirt and team with a loose western print tee that you can tie at the waist. Finish with some big turquoise earrings!
Style up with lots of decorative turquoise jewellery and a stetson shape hat.
Don't be scared of playing with some bold prints! Many of my curvy clients opt for an aztec shacket and wear open with a long boho necklace.
Western Accessories!
The key is to accessorize up! There are 4 core essentials that are always worth the investment, and will bring a western vibe to any outfit.
Stetson or fedora hat
Statement Belt
Western Cowboy Boots
Turquoise Jewellery
By investing in these, you can style up a basic core wardrobe of jeans, shirt, long sleeve top or vintage tee.
As a general rule, it's about having FUN and finding the joy in playing with fringe, vivid turquoise pops and prints.
If you need any help with creating your look or finding quality boho-western styles then Boho Buffalo is the western fashion brand you're looking for!
Browse our latest clothing and accessory lines here: https://bohobuffalo.com/